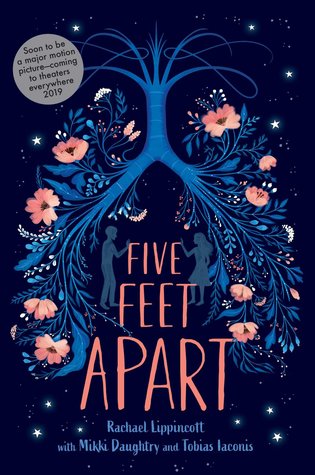 Date Started: 9/29/18
Date Finished: 9/30/18
Publication Date: 4/18/17
Genre: YA Contemporary
POV: Dual 1st Person POVs
Rating: 4/5
Thoughts:
"I hope my life wasn't for nothing," I say, my own wish on those twinkling lights.
He gives me a long look. "Your life is everything, Stella. You affect people more than you know." He touches his chest, putting his hand over his heart. "I speak from experience." 
When I first heard about this book, I was interested and added it to my list. When I heard that the late Claire Wineland was involved in some way (I think she was somewhat of an inspiration for the character of Stella, and she also helped out with making sure that the portrayal of CF was accurate, both here and in the movie version) I just had to get the book. I decided to start out my 2019 with this book. It's not very long, but it definitely packed a punch.
To start off, I enjoyed Stella's character. On the surface, she seems very focused, but as you read and reveal new layers of her, you really get a sense of who she is. I get the feeling that Claire Wineland was a huge inspiration for Stella, from the way that they both decorated their hospital rooms, to the fact that they both have Youtube channels. Our other narrator, Will, wasn't as instantly likable. He's a lot more stubborn and brooding, and I couldn't connect with his attitude a lot, especially after reading Stella's POV. I eventually came to like him as he interacts more and more with Stella.
The plot was nothing special, but it was enough. Two sick kids falling in love in a hospital, but they can't touch, or even stand close to each other. It wasn't really the plot, as much as the characters that drove this story to be what it was. It's basically a romance, but with teens with CF. I liked it, and I have no problems with the plot itself.
Of course, no book is perfect, this one included. I wish it were longer. While the story is complete in it's current form, I wish we got to see more of Will and Stella interacting, or Stella and Poe. Just some bonus scenes could have fleshed out the relationships more. In some ways, the relationship between Will and Stella felt a bit rushed, and I would have liked to see how it developed a bit more. Also, at times Stella's character frustrated me. Her character felt a bit inconsistent at times, but that's explained as being due to her falling in love, so I won't fault it toooo much. Lastly, without giving anything away, I sort of wish that the ending was… different. It was fine as it was, but I wish that there was more closure or a few more chapters or…. something. However, I think that the book is the novel form of the movie, which helps to excuse some of these things. We'll see when the movie comes out.
All of that being said, I still really enjoyed Five Feet Apart, enough to give it 4 stars. It was definitely a unique and charming story, but I don't think that the details of it will stick with me like my 5 star favorites do. Perhaps I'll revisit it someday, but I don't feel a strong urge to do so. However, I will see the movie when it comes out in March, so expect a blog post comparing the two on here!
---
Follow me on Instagram for book pictures, mini reviews, and more!
Use my code STARLIGHT10 for 10% off your order at Wonderdame Bookmarks
Use my code STARLIGHT15 for 15% off your order at Clockwork Heart Co
Use my code STARLIGHT10 for 10% off your order at Fella and Bella
Use my code STARLIGHTREADS20 for 20% off your order at Literary Book Gifts